Tri-Color and Anchor Light AMAZÔNIA ECO 4 IN 1 - Warranty: 3 years Featured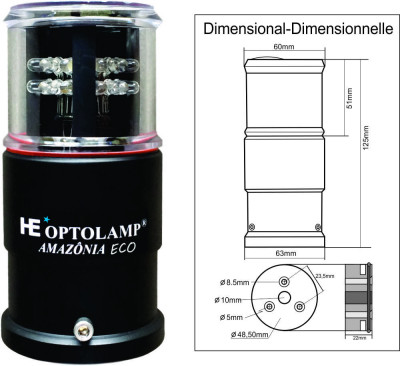 4 in 1: Anchor light; Tricolor Light; Automatic ON-OFF and Bi-Dimensional Signalization VLE System: Vertical Light Emission for AERIAL RESCUE and Masthead Wind Indicators.
Switches on-off automatically (electronic sensor): at dawn, at night and during storms or fog (For the anchor Light).
Amazônia model Versions:
Amazônia ECO "Classic" Version: 3 wires are needed for: Tricolor, Anchor. Standard Installation with the original boat panel switches.
Amazônia ECO "SW" Version: only 2 wires for: Tricolor and Anchor Light. This version use a mode selector switch (3 positions), for the boat panel (mini switch is provided with the lamp).
Because of its ultra low consumption and high light intensity, its resistance against vibrations and mechanic stress, the "AMAZÔNIA ECO" model has been chosen especially for the Schurmann Orient Expedition around the world and Antarctica. During four years, scientific research and navigation trips were made around the world, being for a long time in Antarctica with excellent benefits of consumption and safety in night navigation.
ABSOLUTE SAFE SIGNALIZATION: Optolamp TDPS Pro System: give the 100% security in the boat signalization. The TDPS works as "a second emergency lamp" so that the boat does not remain without any light during night navigation. The boat will be signalized even if a problem occurs in the lamp. Note: If a defect occurs in other lamps of the market, they will simply go out, leaving the boat without lights.
WIND DIRECTION INDICATOR LIGHT: The electronic system recognizes when the navigation light is activated and turns ON the VLE - vertical emergency light emission with an appropriate intensity to illuminate only the wind direction indicator.
Description:
Simple Installation: Base in Delrin block. Waterproof (IP 67), connector (Optional Optolamp® Accessory: C4 -Not provided).
It can work 40 nights with a 12V/75A battery without recharge it.
Consumes 18 times less energy.
Show the Top Wind Indicator.
Total resistance against mechanic stress.
Warranty HE: 3 years.
Patented.
Specifications:
Weight: 225 gr
Height: 125 mm.
Diameter: 60 mm.
Base: Delrin block, very fast installation.
Power source: 10,6V to 14,4V.
Option 24V:
New Electronic Converter HE2412 - Separate accessory to avoid any RF/EMI interference at the top of the mast.
Consumption UBC®: 0,155A.
Horizontal range: minimum 2,0 NM.
In accordance with the COLREG Norms.
Vertical range VLE system: up to 4,0 NM.
Switches on-off automatically: at dawn at night and during storms or fog.
LED life: minimum 50000 hs.
SW Model: a mode selector switch for the boat panel is provided.
Accessories:
-Optolamp® Box Switch S-310 -Not provided.
-Waterproof (IP 67), connector C4 Optolamp® Accessory -Not provided.
-New Electronic Converter HE2412 -Not provided.

OPTOLAMP® signalization products do not cause RFI-EMI interference on the boat equipment.
Optolamp and the Ecology:
Some materials used in different manufacture parts of our products are originally in the market, our ecological policy is to avoid greater consumption of raw material, energy and matrix tools.
Image Gallery