Tri-Color Anchor Strobe Light "AMAZÔNIA Mirim 4 Plus" Compact 5 in 1 Featured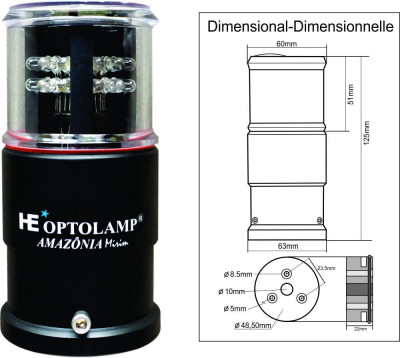 5 IN 1: Tri-color Navigation light, Anchor light, Emergency Strobe, Fast Emergency Strobe and Bi-Dimensional VLE System
New: On the new version "Amazônia Mirim 4 Plus", the electronic system recognizes when the navigation light is used and activate the vertical emergency light emission with an appropriate intensity to illuminate exclusively the wind direction indicator.
TDPS Pro System - True Dual Power Supply. Absolute Safe Signalization.
VLE System -Vertical Light Emitting. Vertical Light Emission for Aerial Rescue up to 4.0NM.
Ultra Low Consumtion – UBC® - First Integrated LED Light in the market.
ABSOLUTE SAFE SIGNALIZATION: MAXIMUM LIGHT INTENSITY WITH DISCHARGED BATTERIES. DRAWS 18 TIMES LESS ENERGY.
Versions:

"Classic" Version: 4 wires for: Tricolor, Anchor and slow Strobe Light or 5 wires to add Fast Strobe Light function. Standard Installation with the original boat panel switches.
"SW" Version: only 2 wires for: Tricolor and Anchor Light; or 3 wires to add slow Strobe Light function (4 wires to add Fast Strobe Light function). This version use a mode selector switch (3 positions), for the boat panel (mini switch is provided with the lamp).

Description:
Simple Installation: Base in Delrin block. Waterproof (IP 67), connector (Optional Optolamp® Accessory: C4).

It can work 40 nights with a 12V/75A battery without recharge it.
Consumes 18 times less energy.
Show the Top Wind Indicator.
Total resistance against mechanic stress.
Warranty HE: 2 years.
Patented.
Specifications:
Weight: 225 gr
Height: 125 mm.
Diameter: 60 mm.
Base: Delrin block, very fast installation.
Power source: 10,6V to 14,4V.
TDPS Pro Systems: True Dual Power Supply.
Option: 24V.
Consumption UBC®: 0,126A to 0,155A.
Horizontal range: minimum 2,0 NM.
In accordance with the COLREG Norms.
Vertical range VLE system: up to 4,0 NM.
Switches on-off automatically: at dawn at night and during storms or fog.
LED life: minimum 50000 hs.

SW Model: a mode selector switch for the boat panel is provided.
Accessories:
Optolamp® Box Switch S-310 (Not provided).
Waterproof (IP 67), connector (Optional Optolamp® Accessory: C4).

OPTOLAMP® signalization products do not cause RFI-EMI interference on the boat equipment.
Optolamp and the Ecology:
Some materials used in different manufacture parts of our products are originally in the market, our ecological policy is to avoid greater consumption of raw material, energy and matrix tools.

Image Gallery