SUPER STROBE LIGHT "SAPPHIRE" Featured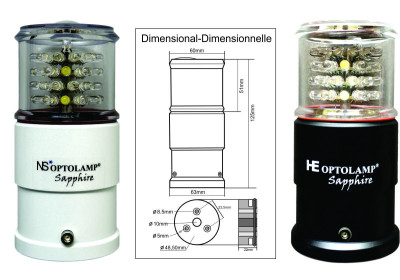 4 in 1 "SUPER STROBE LIGHT" NORMAL EMERGENCY STROBE; FAST EMERGENCY STROBE; ANCHOR LIGHT AND BI-DIMENSIONAL SIGNALIZATION: VERTICAL LIGHT EMISSION FOR AERIAL RESCUE UP TO 4,3 NM. Used on boats, piers, marinas signalization, etc.


ABSOLUTE SAFE SIGNALIZATION: MAXIMUM LIGHT INTENSITY WITH DISCHARGED BATTERIES.
Description:
Consumes 10 times less energy.
Ultra Low Consumption: It can work up to 9 to 20 nights with a 12V/75A battery without recharge it.
Total resistance against mechanic stress.
Show the Top Wind Indicator.
Base: Delrin block, very fast installation.
Warranty HE: 2 years.
Pat. Dep.

Specifications:
Weight: 224gr.
Height: 125 mm.
Diameter: 60 mm.
Color: Black or White.
Base: Delrin block, very fast installation.
Power Source: 9,6V to 14,4V.Option: 24V.
Consumption UBC®: 0,156A to 0,375A
Horizontal Range: 3,2 to 4,2 NM.
Vertical Range: up to 4,0 NM.
In accordance with the COLREG Norms.
Photo-sensor built-in.
Light source: Electronic Led.
Light intensity: 2200000mcd.
Light color option: white; red; green and blue.
LED life: minimum 50000 h.
Accessory OPTOLAMP® SW-ST: mode selector (3 position switch for the boat panel -Not provided).
OPTOLAMP® signalization products do not cause RFI-EMI interference on the boat equipment.
Optolamp and the Ecology:
Some materials used in different manufacture parts of our products are originally in the market, our ecological policy is to avoid greater consumption of raw material, energy and matrix tools.