CENTRAL SURFACE MOUNT MULTIFUCTION LED LIGHT "Omati"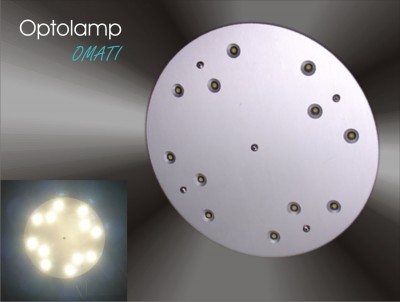 MULTI FUNCTION LIGHT: for general purpose High intensity or low intensity.
Maximum light intensity with discharged batteries: absolute safe illumination.

DESCRIPTION:
RF (Radio frequency) interference free.
Keeps your cabin cool, cold–lamp.
Ultra Low Consumption - UBC®.
The cabin always illuminated in navigation at night.
Total resistance to mechanic stress.
Warranty HE: 2 years.
DI 702910-5
SPECIFICATIONS:
Anodized Aluminum or INOX 316L.
Weight: 350 gr.
Hole diameter: 180mm.
Dimensions: 200mm.
Deep: 22 mm.
Power Source: 11,6V to 14,4V.
Consumption UBC®: 1A or 2A.
Light Source: Electronic: LED, 720lm or 1440lm.
Options Temp. white light: 5500K - Warm white 3500K.
Options light colors: blue, red, and green.
Angle: 140°.
LED life: Minimum 50000 h.