SURFACE MOUNT LED LIGHT "Tonga" Bi-color Automatic Light Featured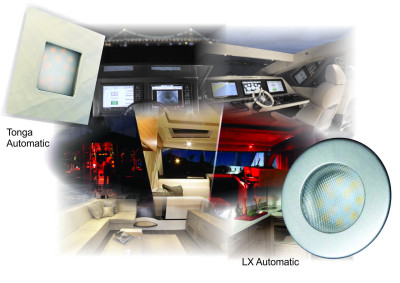 DESCRIPTION: Bi-Color Spot Led and reading Light - Automatic. Automatically switches to white or red light. To use on the boat bridge (navigation at night: red light), table charts, circulation light, etc. Maximum light intensity with discharged batteries: absolute safe illumination. Ultra Low Consumption - UBC®: it can work 69 or 156 nights with a 12V/75A battery without recharge it (104 or 156 nights in 24V).
Safe illumination from 10V to 30V.
The cabin always illuminated in navigation at night.
Keeps your cabin cool, cold–lamp.
Total resistance to mechanic stress.
Warranty HE: 2 years.
SPECIFICATIONS:
Stainless Steel 316L or MATTE.
Dimension: 62 x 62 mm.
Deep: 21 mm.
Color Light: Automatically switches to white or red light.
Power Source: 10V to 30V.
Power Consumtion UBC®: 12V= 0,090/0,040A (90/40mA); 24V= 0,060/0,040A (60/40mA).
Light Source: Electronic, Led 140lm or 280lm.
LED life: minimum 50000hs.