READING LED LIGHT "Galápagos" Chrome Bronze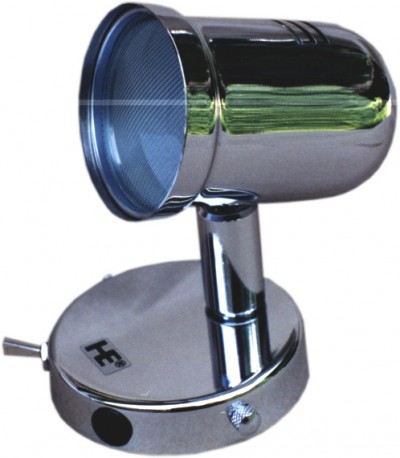 Maximum light intensity with discharged batteries: absolute safe illumination.
Ultra Low Consumption - UBC®: it can work 62 nights with a 12V/75A battery without recharge it.
DESCRIPTION:
Safe illumination from 10,7V to 14,4V (option 24).
RF (Radio frequency) interference free.
None introduce RF noise in the VHF or SSB.
The cabin always illuminated in navigation at night.
Keeps your cabin cool, cold–lamp.
Total resistance to mechanic stress.
Warranty HE: 2 years.
SPECIFICATIONS:
Chrome Bronze
Weight: 200 gr.
Height: 120 mm.
Power Source: 10,7V to 14,4V (option 24V).
Consumption UBC®: 0,100A (100mA).
Light Source: Electronic, Led: 240000mcd
On-Off switch.
LED life: minimum 50000 hs.
Image Gallery